What is a feedback loop?
We continuously collect team feedback within our four primary indicators Performance, Motivation, Satisfaction and Stress-free.
The choice of feedback loop frequency (weekly, bi-weekly or monthly) and the number of feedback questions per loop is decided by team leaders. It is possible to have as few as 3 questions per loop.
*Note that the number of feedback questions in each loop can affect the timing of receiving the regular report. This is due to the need to collect a certain amount of data before the report can be generated.
---
The format is simple! A team member has to answer how much they agree with a statement on a scale from Totally disagree to Totally agree, as shown below.
Each feedback loop only requires a few minutes to complete and the questions will be unique and updated in each loop. This helps maintain employees' long-term motivation for active participation. At the same time, over time, we ensure that we cover all the essential aspects that impact both wellbeing and performance.
All responses are entirely anonymous.🤫
We only display the aggregated data, never individual answers!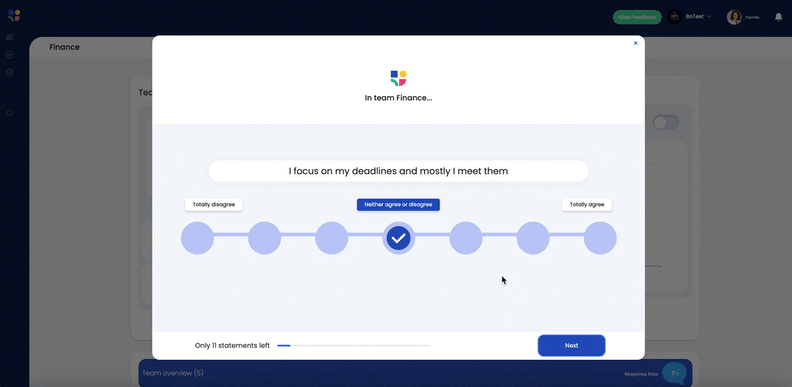 ---
What type of feedback statements will my team receive?
Don't worry about the feedback questions. The entire process of creating feedback loops is seamless as we've already compiled a collection of over 1000 pre-written feedback statements.
These statements are carefully crafted to fit specific industries and environments, so they can reveal the unique challenges that your type of team faces. This means we can always ensure that every team receives quality feedback without bias, with minimal effort.
Here are a couple of examples of what feedback questions could look like:
"

We regularly express gratitude within our team

"
"

My leader communicates clearly what is expected of me

"
"

We have motivating team goals

"
"

I am comfortable giving feedback to my team members

"
The statements are regularly updated and improved based on user experience and relevancy. Read in-depth about Feedback Statements here.
---
We call it a "loop" because once it's started, it runs automatically on your chosen frequency, and each time a new loop begins, all team members receive a notification telling them that it's time to share their feedback. 🔁

Each team member can access it and give feedback by logging into the platform or through the App (Android and IOS).
You can stop/pause or go on "vacation mode" at any time if necessary.
You don't have to spend time starting each loop or sending reminders. After the loop is set up and started, it's hands-free!🙌🏻
Voila, It's that easy!
---
We are here every step of the way. So if you still have questions?
Write to support@successteam.com or start a chat by clicking on the icon in the right corner, and we'll answer your questions as soon as possible.