See the short video about how it works, and read about each element in the Dashboard below.




Challenges and Response Rate:

The Challenges
To your left, you'll see the Challenge banner. Here you have an overview of your total number of identified challenges. The red notification box shows you how many of the challenges are "new," making it easy for you to know where you haven't taken action yet. Click "View and Improve" and go through each challenge to get insights on the feedback and start taking Action.
The Response Rate
You see your team's response rate on the right side, giving you a "head up" if your team has a low engagement on feedback. The system will automatically send reminders to your team, but if your response rate is especially low, you can click "Send Reminder," and they'll be reminded to give feedback.
Remember to communicate the meaning of Successteam, and motivate them to respond. If you want, you can send them the Successteam Guide, to help them understand why it's important: Download the Guide


The Indicators/Successteam Score and Chart of Improvements:



The Indicators and Successteam Score:
On the left side, you have your Team Indicators. They show you a quick status on how your team is doing. The colors indicate if you have critical challenges or if you are doing excellent within an area. The Successteam Score is an average of the total 12 indicators.
Chart of Improvements (coming soon):
Very soon, you'll have a Chart of Improvements on the right side. It is a simple graph created to give you some context when analyzing your Indicator scores. A score might be red or orange, but if you have improved since last month, you are moving in the right direction.


Your Actions: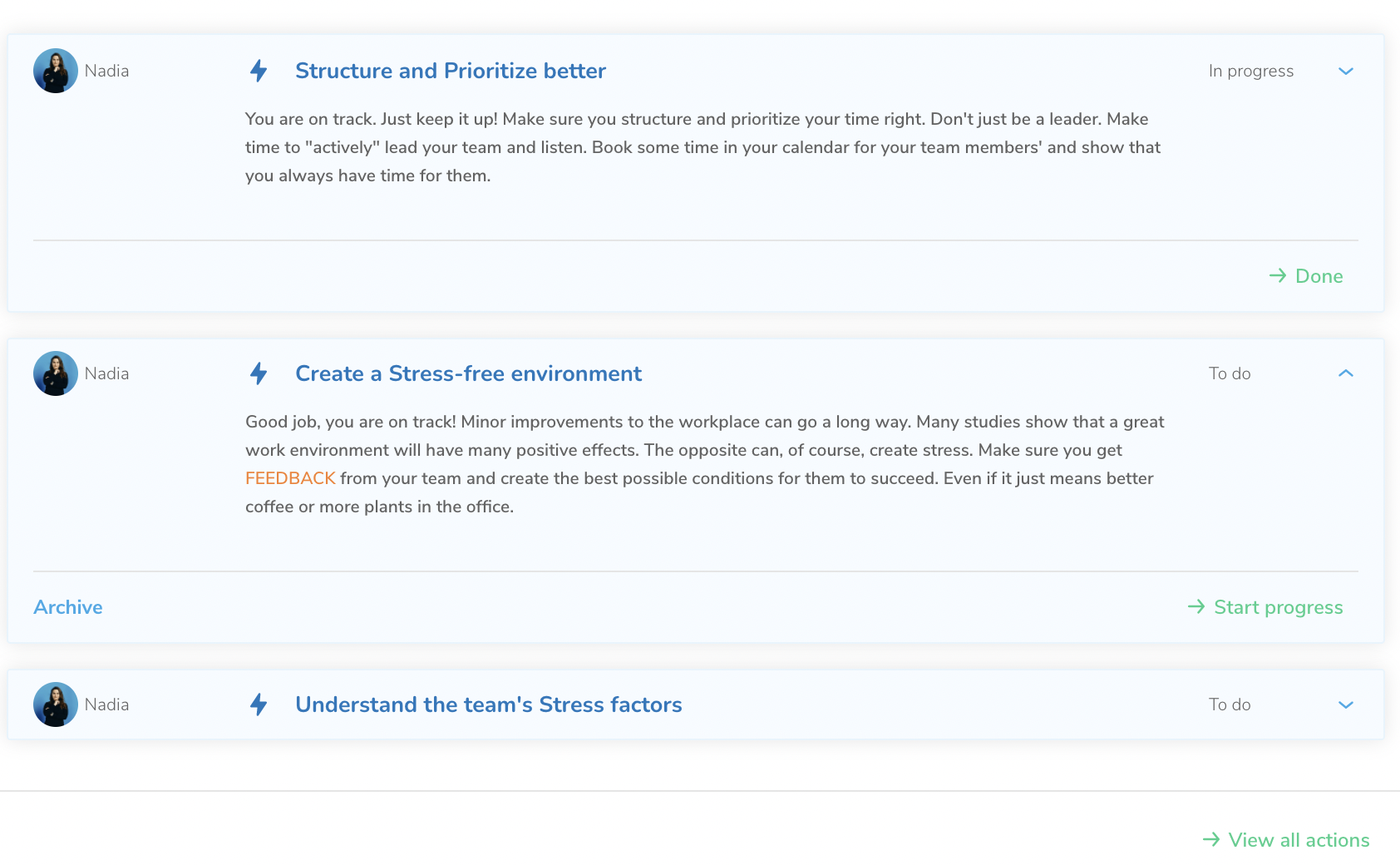 Under "Your actions based on challenges," you can get a quick overview of your actions. Click "Start Progress" to start an Action, or Click "Done" if you already completed the action. You can also go into "View all Actions" to see a complete overview of: In progress actions, Assigned actions, Completed challenges, and Archived actions.

Team Overview:

At the bottom, you'll find your Team Overview. You can see all team members, their activity level, and the precise response rate on the last Feedback Collector. You can click the "red bell" icon and send reminders to each team member if they have a low response rate.