Not sure how to start? No worries! We are here to help.🙌🏻
Below is a brief description of what to choose when onboarding in Successteam.
Successteam is for all types of teams in all kinds of environments. As long as you have at least 5 people in your organization, you can get great value and support in building a great culture.
---
When onboarding in Successteam, you have the 3 options below.
You can jump directly to learn about an option here: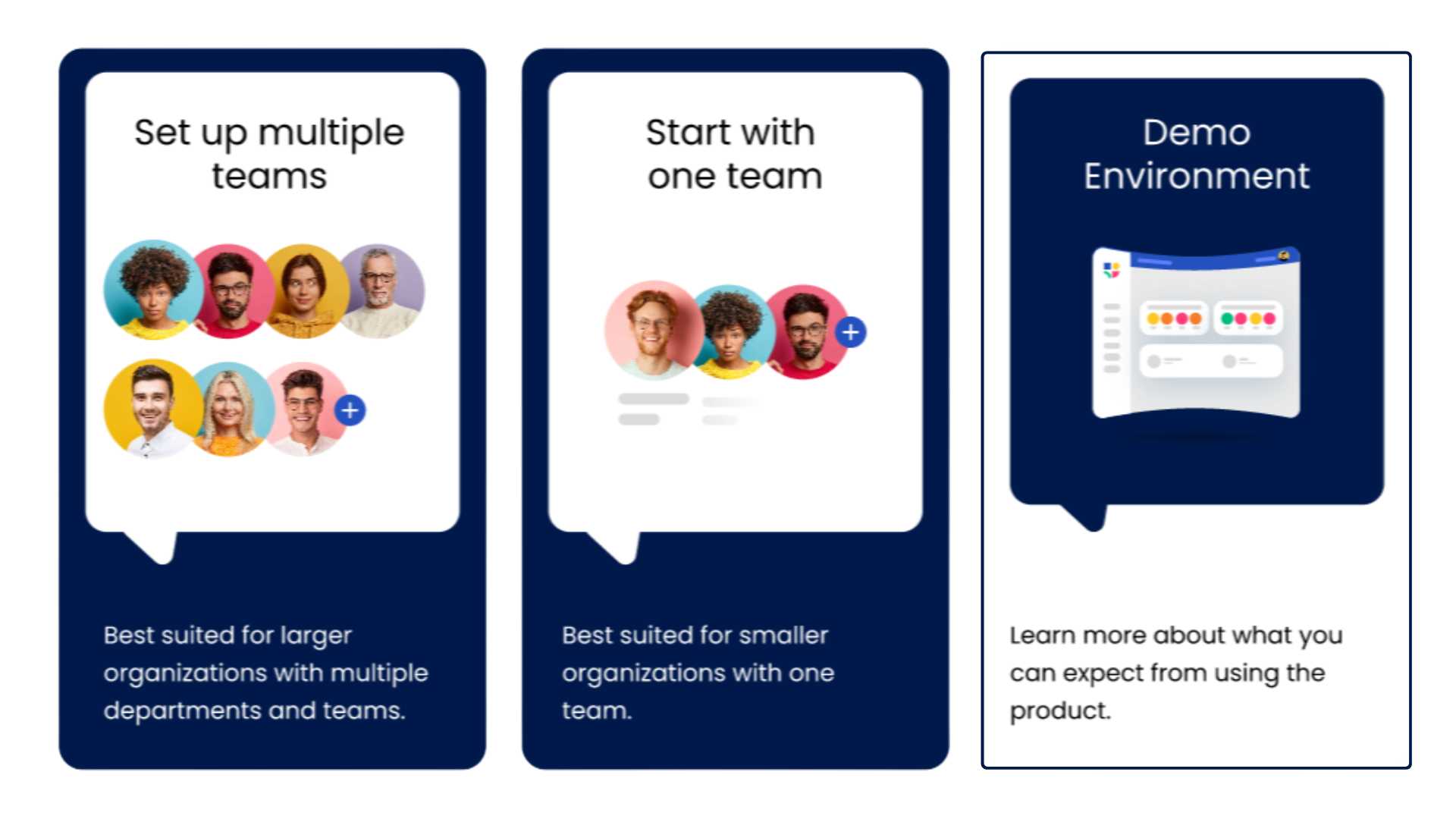 ---
Smaller organization (approx 5-20 people).

A larger organization that wants to try it with one team initially.
Small Organizations:
For smaller organizations, where some departments might consist of 2-4 people, getting feedback from the company as a whole is generally more valuable. To ensure anonymity, we only show feedback data when 4 or more people have responded. That's why it's better to have everyone in one big team, so you get everyone's feedback. You can easily split up into smaller teams as your organization grows.
Larger Organizations:
No matter the organization's size, you can start with one team. This is the most popular option because you can test it out and add teams ongoing as needed.

This is also preferred for teams who want to use it only in a single department in a bigger organization. Successteam doesn't have to be rolled out for the whole company for you to use it.
---
MULTIPLE TEAMS.
Best suited for:
Larger organizations that want to build their team/department structure right away.
We made it simple and fast for larger organizations with multiple teams to onboard, so you can start with your whole organization immediately.
The point is to divide into the teams you want to measure. So if that is your existing departments or an entirely new team structure across departments, that's up to you. The important thing is that each team has at least 4 members and one leader. Each team can also have multiple leaders.
The process is simple, but here you have a short explainer.
---
DEMO ENVIRONMENT.
Best suited for:
Anyone whos curious but not ready to invite their colleagues yet.
If you are curious about how it works and what your workspace with data and insight would look like, this option is for you.
---
If you are still uncertain about how you should get started with Successteam, you can always book an onboarding session with us.

Find a date and time that fits your schedule here.